Ghana is a low income country with a per capita GDP of only $400 (U.S.) per year. It has many economic and social problems especially in the areas of employment, housing, health, and sanitation.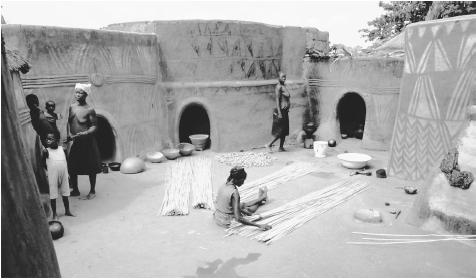 Painted huts enclose a courtyard where a woman weaves mats from millet stalks. Such courtyards serve as the primary focus of domestic activity.
The major thrust of development policy since 1985 has the World Bank–supported Economic Recovery Program, a structural adjustment strategy to liberalize macroeconomic policy. The core initiatives have been expansion and diversification of export production, reduction of government expenditures, especially in the public service, and privatization of state industries. As part of this program, the government instituted a special project to address the attendant social costs of these policies. It involved attempts to increase employment through public works and private-sector expansion, supported by business loans to small-scale entrepreneurs and laid-off public servants. Women were particularly targeted as beneficiaries.
—BRIAN SCHWIMMER